India: Legal gay sex ruling challenged
Posted on July 21, 2009
Filed Under Uncategorized
A landmark ruling that legalized gay sex between consenting partners in India was challenged Thursday in the country's high court, lawyers said.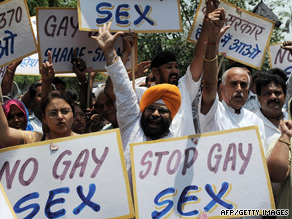 Activists protest against the ruling to decriminalize gay sex in New Delhi on Sunday.
The supreme court issued a notice to the nonprofit Naz Foundation that had won a lower-court verdict after a seven-year legal fight to decriminalize gay sex.
Notices also were issued to the federal government and the New Delhi high court, which ruled last week that consensual sex between partners of the same gender was legal.
An astrologer filed a petition challenging the ruling. The petitioner argued that no constitutional right is violated by the Indian penal code's Section 377, which had outlawed gay sex, said his lawyer Praveen Agrawal.
The petition also cited Indian culture and health as grounds for seeking a stay on last week's ruling, he said.
The supreme court posted the next hearing for July 20.
Last week's ruling meant the law — Indian penal code section 377, which had previously criminalized consensual homosexual acts between adults — was partly struck down but remains in place as far as forced homosexual acts are concerned.
The verdict affects law enforcement all around India because it deals with a law enacted by the federal parliament.
See India: Legal gay sex ruling challenged
CNN Internationa
* Tags = gay men gay news lesbian news transgender bisexual
| | |
| --- | --- |
| Published by | |
Original source : http://gay_blog.blogspot.com/2009/07/india-legal-g…
India Decriminalizes Gay Sex
Ancient India didn't think homosexuality was against nature
Religious groups in India have warned they will…
Hindu guru claims homosexuality can be 'cured' by yoga
Activists welcome Delhi hc's gay verdict
Comments